HDCam Mastering Video Post Production Services
Craven Studios is dedicated to helping bring your video post production HDCam mastering services to life.
Powersource Media is a professional duplicating facility, providing videotape, DVD, Blu-ray, and CD transfer and duplication services.
With over 20 years of experience in the video and broadcast industry, Kim and Brent Craven of PowerSource Media can ensure your project is handled from start to finish with personalized service, attention to detail and the utmost care.
The Foto Booth Rocks! – Taking Photo Booth's to the next level. The Foto Booth is available for rental at your next wedding, party or corporate event.
line21cc.com
We deliver top-quality open and closed captioning, subtitling and script & transcript services to a wide spectrum of television, film, and corporate clients. Your project is done right the first time, on time, every time. We are entirely Vancouver owned and operated, proudly serving the local community (and the world) since 1994.
Descriptive Video Works is known across Canada as the most prominent and respected company providing full service Described Video and Audio Description and we are now delivering the same high quality service to the U.S. market.
Peacock Digital Media lives and does web site design in Vancouver British Columbia. So meeting to discuss your needs in the lower mainland is as simple as sending a note.  We can work remotely if you are not from the metro Vancouver or the Fraser Valley.
Playback/Record of HDCam, Digital Betacam, Betacam SP& SX, MiniDV & DVCam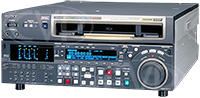 HDCam, introduced in 1997, is a high-definition video digital recording videocassette version of Digital Betacam.
HDCam tapes are produced in small and large cassette sizes; the small cassette uses the same form factor as the original Betamax.